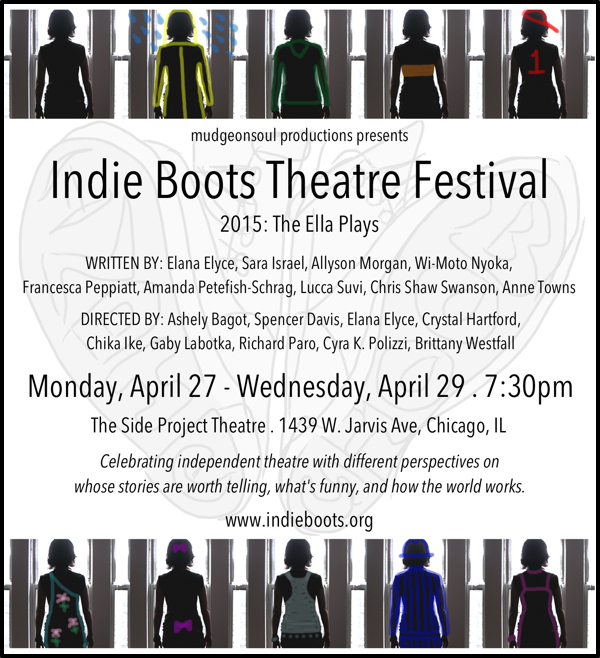 Indie Boots Theatre Festival
2015: The Ella Plays
Monday, April 27 - Wednesday, April 29, 2015. 7:30PM
The Side Project Theatre. 1439 W. Jarvis Ave, Chicago, IL
Mudgeonsoul Productions presents Indie Boots Theatre Festival, celebrating new short plays with different perspectives on whose stories are worth telling, what's funny, and how the world works. This year's writing prompt, to use "Ella" in the title of a short script, resulted in hundreds of diverse submissions, each competing to be a finalist performed on Monday, April 27 - Wednesday, April 29 at 7:30pm at The Side Project Theatre (an accessible theater at 1439 W Jarvis Ave, just a block from the Red Line). Audiences are treated to nine short plays, each fully staged by Chicago directors and actors. This year's plays, most of them comedies penned by women, tackle feminism, sexuality, the American workplace, growing up, intersectionality, disconnection, friendship, and, well, zombies. Tickets are $15 for this fast-paced 90 minute show, with low income discounts available. At the end of the festival, an Audience Award is presented to the writer, director and cast of the winning collaboration.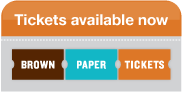 ---
The Ella Plays!
All nine plays will be performed each night. Listing does not reflect running order.
Running time is approximately 90 minutes.
For more info about the actors, directors, and writers, hover over the photos.
Ella Finds Ameila
Written by Amanda Petefish-Schrag . Directed by Crystal Hartford
When Ella throws logic to the wind and gathers her friends to create an unlikely national holiday, relationships are tested and feminist organizing is turned on it's head.
| | |
| --- | --- |
| Crystal Hartford (Director) studied Theatre and History at Avila University. Some of her favorite roles include "Brooke" in Noises off, "Helena" in The Rover, and "Cinderella" in Into The Woods. She is a Mudgeonsoul Productions ensemble member, and the play she directed for Indie Boots 2013 won the Audience Award! Also, she plays in the bands Dust Bunnies and Hartford/Focht. | Amanda Petefish-Schrag's (Playwright) professional credits include work as a director, playwright, puppeteer, and mom to Celia and Eli. She is an Assistant Professor of Theatre at Iowa State University where she teaches courses in acting and theatre history. Amanda is a member of the Dramatists Guild. |
| Crystal Hartford | Amanda Petefish-Schrag |
Ella's Children
Written by Wi-Moto Nyoka . Directed by Richard Paro
What starts as just another day on the job at a daycare center, turns into an unexpected zomedy about "women's work" and mobility.
| | |
| --- | --- |
| Richard Paro (Director) is an award-winning director based in Chicago, where he's also found acting and writing. He's the artistic director of Mudgeonsoul Productions and has worked with various companies including Full Voice, Hobo Junction, Stockyards, Tympanic, Prologue, Commedia Beauregard, Fury, and Theatre-Hikes. In addition, his films screen at festivals around the world. | Wi-Moto Nyoka (Playwright) is a new playwright. Her credits include: Tanzhaus NRW Interdisciplinary Works, Puffin Foundation grant recipient and selected librettist of The Brick?s Comic Book Theater Festival 2014 for her project Hero How To. This is her first play and she would like to thank Indie Boots, the cast and crew for their support. www.duskydiana.com |
| Richard Paro | Wi-Moto Nyoka |
Ella's Sixth Sense
Written by Sara Israel . Directed by Ashely Bagot
A musician, an optimist, a park bench, a psychic, a groupon... destiny, or maybe not.
| | |
| --- | --- |
| Ashely Bagot (Director) is a director, actor, and costume designer. In addition to her work with mudgeonsoul productions, she has frequently worked with Hobo Junction, Full Voice, and Stockyards Theatre Project. The plays she has directed at Indie Boots have placed 2nd two years in a row! | Sara Israel (Playwright) has been engaged by words-in-space ever since she was cast in the title role of a kindergarten play, The Magic Letter E (cap to cape; mad to made). She?s now an award-winning writer and director for stage and camera, and her work has been seen throughout the country. www.SaraIsrael.com. |
| Ashely Bagot | Sara Israel |
Ella's Special Delivery
Written by Allyson Morgan . Directed by Gaby Labotka
After a lousy birthday in a crowed city, Ella escapes to the rooftop where she sits, disconnected and alone, until a delivery person arrives bearing pizza she can't afford.
| | |
| --- | --- |
| Gaby Labotka (Director) had her debut with The Living Canvas: Rain. Since then, she has AD?d for The House and Mary-Arrchie, and directed in Abbie Fests XXIV-XXVI (The Living Canvas), Hobo Robo V, and Fight Nights 2012 and 2014 (Mary-Arrchie and Wayward Productions). She is also an actor, playwright, and choreographer. For more information, please check out her Facebook Page: www.facebook.com/GabyLabotka.Theatre | Allyson Morgan (Playwright) professional credits include work as a director, playwright, puppeteer, and mom to Celia and Eli. She is an Assistant Professor of Theatre at Iowa State University where she teaches courses in acting and theatre history. Amanda is a member of the Dramatists Guild. |
| Gaby Labotka | Allyson Morgan |
Of COURSE it?s by F@#king Ella!
Written by Anne Towns . Directed by Brittany Westfall
It's the year 2025 and Sunandah is shocked to hear the results of the dream monitoring program she's been enrolled in for 365 days.
| | |
| --- | --- |
| Brittany Westfall (Director) has had the time of her life enjoying the Chicago theatre scene for the last 6 years both as a participant and spectator (or rather, theatre junkie/nerd). Brittany has been involved in endeavors at Commedia Beauregard, Remy Bumppo, and other Chicago theatres. Brittany holds a BA in Communications-Theatre from Malone University in Ohio. | Anne Towns (Playwright) is an Assistant Professor of Theatre at Young Harris College in the beautiful north Georgia mountains. She is also a commons producer for Howlround.com documenting Pearl Cleage's residency at The Alliance Theatre in Atlanta. Anne has an MFA in directing from Florida State University. Visit her at www.onthetowns.com. |
| Brittany Westfall | Anne Towns |
The Thing About Ella
Written by Chris Shaw Swanson . Directed by Chika Ike
A heartbreaking and relatable story about a very close relationship between two lively teenage girls.
| | |
| --- | --- |
| Chika Ike (Director) is pleased to be working with the Indie Boots Theatre Festival. She has directed with Eclipse Theatre and Prologue Theatre, as well as produced her own work. As an assistant director, she has worked with The Gift Theatre, StageLeft Theatre, and American Blues Theatre. She recently graduated from Indiana University after studying Theatre & Drama and History. | Chris Shaw Swanson's (Playwright) plays have been produced in the US, Canada, Singapore, South Korea, New Zealand, Australia, England, and India. Her publishers include Smith & Kraus, Meriwether, and the ICWP. A member of the Dramatist Guild, Chris won the 2014 Goshen Peace Play Prize and an Ohio Arts Council Individual Excellence Award. |
| Chika Ike | Chris Shaw Swanson |
The True Story of CinderELLA
Written by Francesca Peppiatt . Directed by Spenser Davis
A storyteller attempts to tell The Fairy Tale of CinderELLA, but CinderELLA (who goes by the name Ella Fitzgerald) and her fellow characters, have doubts about the moral of the story.
| | |
| --- | --- |
| Spenser Davis (Director) recently directed "All in the Timing" (Stage 773), "Today We Escape" (Tympanic), the Midwest Premiere of "From White Plains" (Broken Nose Theatre), and "Bechdel Fest 2," a festival he co-created. He is literary manager with Broken Nose and Artistic Director of Hobo Junction, a collective dedicated to new comedies. He also works as a playwright and actor. | Francesca Peppiatt (Playwright) is a writer, performer and producer. She is a major fan of all things Indie Boots and everyone connected. As Producing Artistic Director of Stockyards Theatre Project she created Play for Keeps, Stockyards? signature workshop. Francesca has a column at Examiner.com and is writing a musical adaptation of Treasure Island. |
| Spenser Davis | Francesca Peppiatt |
Ella at the Office (Out of Competition)
Written by Lucca Suvi . Directed by Cyra K. Polizzi
Gendered expectations cause comedic confusion as a woman attempts to navigate her relationships with her co-workers.
| | |
| --- | --- |
| Cyra K. Polizzi (Actor/Director) graduated from UW-Madison in Theatre, Gender, and Environmental Studies. Cyra works full-time in theatre/film, focusing on stage acting while also engaging in directing, writing, and exhibition. Roles in established works range from "Wendla" Spring Awakening to "Corie" Barefoot in the Park to "Frank" Rocky Horror Show. cyrakpolizzi.com | Lucca Suvi (Playwright) is credited with short and full length, feminist and queer theatre pieces, many of them workshopped in Chicago with Stockyards Theatre Project and further developed by Full Voice. |
| Cyra K. Polizzi | Lucca Suvi |
Tales of Miscellany (Out of Competition)
Written, Directed, and Performed by Elana Elyce
Seamlessly mixing comedy and drama, this powerful one-person play introduces us to a spirited young girl growing up in a whirlwind of messages about her place in the world.

Elana Elyce (Actor/Writer/Director) is an actor who also writes, directs and coaches. Recent projects include "Mud, River, Stone" with Eclipse Theatre; "Principal Principle", a co-production with Stage Left and Theatre Seven; "Gees Bend" and "for colored girls who have considered suicide when the rainbow is enuf," with Fleetwood-Jourdain Theatre; and her first one-woman show: "Acceptable Plagiarism" with MPAACT's Solo Jams series. www.elanaelyce.net
Elana Elyce
---
Indie Boots Theatre Festival 2015 Selected Plays
Congratulations to all the Semi-Finalists, which were selected from hundreds of submissions!
* Ella Finds Amelia by Amanda Petefish-Schrag, directed by Crystal Hartford (Finalist)
* Ella's Children by Wi-Moto Nyoka, directed by Richard Paro (Finalist)
* Ella's Sixth Sense by Sara Israel, directed by Ashely Bagot (Finalist)
* Ella's Special Delivery by Allyson Morgan, directed by Gaby Labotka (Finalist)
* Of COURSE it's by F@#king Ella! by Anne Towns, director Brittany Westfall (Finalist)
* The Thing About Ella by Chris Shaw Swanson, directed by Chika Ika (Finalist)
* The True Story of CinderELLA by Francesca Peppiatt, director Spenser Davis (Finalist)
* Ella at the Office by Lucca Suvi, directed by Cyra K. Polizzi (Out of Competition)
* Tales of Miscellany written and directed by Elana Elyce (Out of Competition)
And If You Act Now, Ella... by Bill Daniel (Semi-Finalist)
Beth & Ella by Jason Rainey (Semi-Finalist)
Benched by Ella by Len Cuthbert (Semi-Finalist)
Ella and her Best Friend by Katherine H. Burkman (Semi-Finalist)
Ella Gets a Promotion? by Mike Pusateri (Semi-Finalist)
Ella Lived by Ava Molnar (Semi-Finalist)
Ella the Little Puppy by Dan Jackson (Semi-Finalist)
Ella Trip by Susan Soon He Stanton (Semi-Finalist)
Ella's Embrace by Donna Hoke (Semi-Finalist)
Ella's Madrigal by Julie English-Dixon (Semi-Finalist)
Ella's Weighty Matter by Naomi Finkelstein (Semi-Finalist)

* Selected for Performance